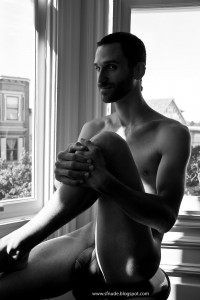 I'm not sure if I qualify among true-blue nudists as a nudist, but I certainly enjoy being nude and being nude around others.  You would never know this from my time in cold and windy San Francisco (nudity + wind + cold = no way, Jose), but in a warm climate, in general solitude, I'm the first to take of all my clothes, like a spirited 2-year-old who refuses to keep his threads on.
Late last year, my boyfriend, Jeremy, sat with a terrific local photographer, Ryan Scott, for a nude series.  As you can tell from this photo, many skills in front of and behind the camera are in evidence.
More of Jeremy's photos on Ryan's site are here, here, here, here, here, here, and here.
Ryan's self-portraiture (and nature, and stuff he likes) site is here.
Revel in it all, ye voyeurs.